Current Adult Sabbath School Lesson: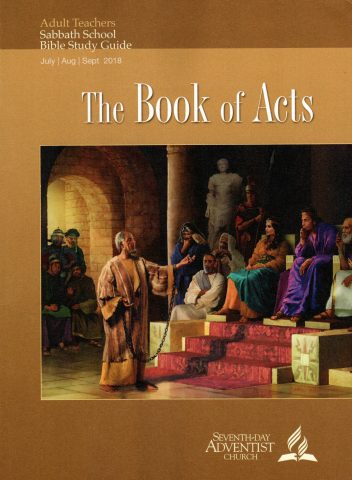 The adult Sabbath School lessons are prepared by the General Conference of Seventh-day Adventists, usually by one of the scholars or theologians of the church.  These lessons are published in the Adult Sabbath School Bible Study Guide which is published quarterly and provided free to each student.  To study on line, click the link in the previous sentence.
This quarter our Study Guide is entitled "The Book of Acts."  Acts gives us Luke's account of the history of the early Christian church.  Luke is referred to by Paul as the "beloved physician." This is Luke's second book, which, along with his gospel, account for about 27% of the New Testament.
"Three crucial decades in world history.  That is all it took...In those thirty years, [the Christian movement] got sufficient growth and credibility to become the largest religion the world has ever seen and to change the lives of hundreds of millions of people.  It has spread into every corner of the globe and has more than two billion putative adherents.  It has had an indelible impact on civilization, on culture, on education, on medicine, on freedom and of course on the lives of countless people worldwide.  And the seedbed for all this, the time when it took decisive root, was in these three decades [31 - 62 AD].  It all began with a dozen men and a handful of women: and then the Spirit came."  (From Michael Green, Thirty Years that Changed the World: The Book of Acts for Today, 2nd Ed., Eerdmans, 2002, p7)
May the study of our beginnings this quarter inspire us to be faithful to our Lord's call to be His witnesses to the end of the earth under the power of the Holy Spirit.
Below are posted the PowerPoint presentations for lessons presented so far.  Click on the lesson and choose "Open" or "Save."  To View PowerPoint Presentations on this site without purchasing the MicroSoft PowerPoint application, you need PowerPoint Viewer.  Get it here for free.  (Search Site for PowerPoint Viewer). 

If you are a Sabbath School teacher, you may use the lessons in your own preparation and presentation.  Your comments and questions on the lessons are welcome (mcnultyk@comcast.net). 

(Note on posting: I am a hopeless procrastinator, but I will do my best to post the lesson by early Friday morning, Eastern Standard Time.  The first post is seldom the final version.  Please check back for additions, corrections, and updates.  You are invited to bookmark this page to easily find it again.) 
Lesson 1 (On vacation: no lesson this week)
Lesson 4 (On vacation at family camp: no lesson this week)
Posted 21 Sep 2018 at 2:02 am. Complete.
Lesson 13
Lessons from Last Quarter on "Preparation for the End Time"
Lesson 12 (Camp Meeting: No Lesson this Week)
Lesson 13 (Camp Meeting: No Lesson this Week)