Current Adult Sabbath School Lesson: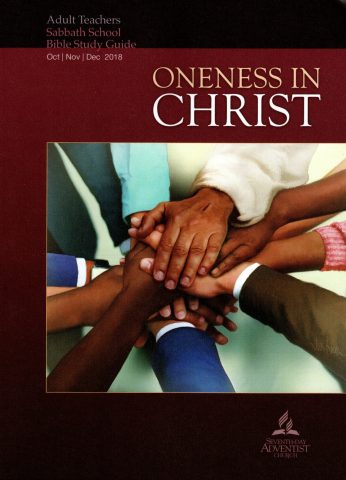 The adult Sabbath School lessons are prepared by the General Conference of Seventh-day Adventists, usually by one of the scholars or theologians of the church.  These lessons are published in the Adult Sabbath School Bible Study Guide which is published quarterly and provided free to each student.  To study on line, click the link in the previous sentence.
This quarter our Study Guide is entitled "Oneness in Christ." On the night on which He was betrayed, Jesus prayed for His disciples a prayer recorded in John 17.  He prayed for all those who would believe on Him, "that they also may be one, as You, Father, are in Me, and I in You; that they also may be one in Us, that the world may believe that You sent Me."  Unity in the Body of Christ is one of the 28 Fundamental Beliefs of the Seventh-day Adventist Church.  This belief is summarized as follows.  "The church is one body with many members, called from every nation, kindred, tongue, and people.  In Christ we are a new creation: distinctions of race, culture, learning, and nationality, and differences between high and low, rich and poor, male and female, must not be divisive among us.  We are all equal in Christ, who by one Spirit has bonded us into one fellowship with Him and with one another; we are to serve and be served without partiality or reservation.  Through the revelation of Jesus Christ in the Scriptures we share the same faith and hope and reach out in one witness to all.  This unity has its source in the oneness of the triune God, who has adopted us as His children."  Come join us this quarter as we search the scriptures to find insight and instruction on how to live out and express the unity we have in Christ.

Below are posted the PowerPoint presentations for lessons presented so far.  Click on the lesson and choose "Open" or "Save."  To View PowerPoint Presentations on this site without purchasing the MicroSoft PowerPoint application, you need PowerPoint Viewer.  Get it here for free.  (Search Site for PowerPoint Viewer). 

If you are a Sabbath School teacher, you may use the lessons in your own preparation and presentation.  Your comments and questions on the lessons are welcome (mcnultyk@comcast.net). 

(Note on posting: I am a hopeless procrastinator, but I will do my best to post the lesson by early Friday morning, Eastern Standard Time.  The first post is seldom the final version.  Please check back for additions, corrections, and updates.  You are invited to bookmark this page to easily find it again.) 
Posted 16 Nov 2018 at 2:00 am.  Complete.
Lesson 8
Lesson 9
Lesson 10
Lesson 11
Lesson 12
Lesson 13
Lessons from Last Quarter: "The Book of Acts"
Lesson 1 (On vacation: no lesson this week)
Lesson 4 (On vacation at family camp: no lesson this week)
Posted 28 Sep 2018 at 2:40 am. Complete.
Rev 1 posted 28 Sept 2018 at 9:20 pm.  Added Slides 7, 23, and 24 on Paul's last days.